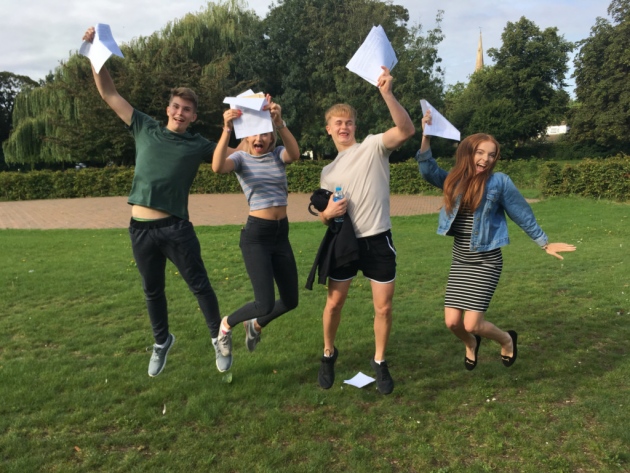 Jason Wing was speaking as the March college celebrated results that included an impressive two thirds of pupils achieving grade four or above in GCSE England and over half recording the same standard in maths.
There were further highlights in the sciences, with 97.6 per cent of pupils achieving a pass in chemistry, and over half of grades at A or A*.
Physics and biology had pass rates of 95 per cent and 85.4 per cent respectively with over a fifth of grades at A or A* in each.
Ninety per cent of students sitting ICT achieved at least a pass with almost half at A* or A. Both media studies and German had pass rates of 82.4 per cent, with a third of grades at A* or A in the latter.
Music and P.E. also performed well with pass rates of 72.7 per cent and 71.4 per cent respectively.
The results are the first time the government's new GCSE grading measures of one to nine have been used, with nine the highest mark and four representing a standard pass – previously a C.
The new grading system is only being used for maths and English, with all other subjects maintaining the traditional A* to E format.
Head of School Aynsley Welling, said: "It is important to celebrate the success of this cohort of students as they have worked so hard for this success.
"This is the first year of the new assessment procedures with the change from grades to numbers and we have learnt a great deal that will enable us to build on this year's achievements."
Vice principal and raising standards lead Paula Brenchley said: "We are especially delighted that a significant number of our students achieved the new grade nine, which was designed to recognise the very highest performing students and is set above the A* grade of previous years."
Theo Boyce, progress leader for Year 11, said: "I am really pleased for our Year 11 students. They have demonstrated excellent perseverance throughout the last two years and we wish them all the very best for the future."
Executive principal Jason Wing said: "I have been impressed with the commitment of the staff and students who have been admirably supported by our parents. This has been a real team effort."
Chief Executive of the Active Learning Trust Gary Peile, said: "I would like to congratulate each and every student at Neale-Wade for their hard work over the past year, leading to another set of very good results.
"At a time when there is considerable turbulence in the education system it is to the credit of students, supported by a determined staff and supportive parents and carers, that they have delivered some exceptional performances at GCSE.
"The whole trust is proud to have Neale-Wade as part of its organisation and looks forward to supporting Jason, Aynsley and the whole team in 2017 and beyond."