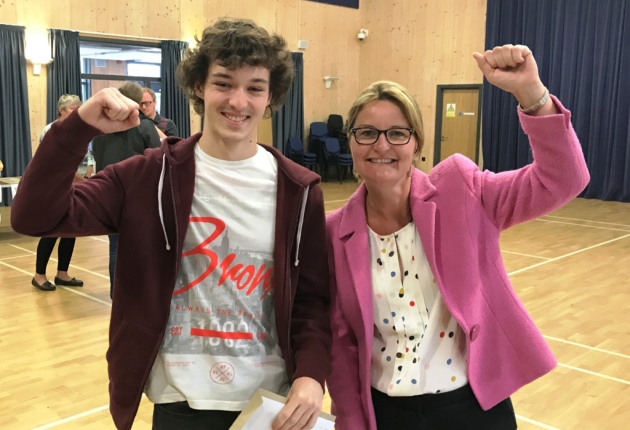 Neale-Wade Academy, March, part of the Active Learning Trust, has achieved a 95% pass rate across all A Level subjects.
In addition, there were exceptional results for students who took vocational qualifications, with 75% of all entries achieving either Distinction or Distinction*.
20 of the school's 26 subjects had a 100% pass rate.
There were particularly strong results in BTEC Law, with 83% of students achieving a Distinction or Distinction*. Similarly, 83% of students taking BTEC Sport achieved Distinction or Distinction* while 75% of students achieved Distinctions in Cambridge Technical Diploma in IT.
There were outstanding results for a number of A Level students, including: Oscar Howes (three As in English Language and Literature, Geography and Film Studies), Jack Butler (A in History and three Bs in Physics, Maths and AS Music), William Evans (two As in Biology and Maths and a B in Chemistry), Jake Fisher (A in Maths and two Bs in Further Maths and Physics) and Owen Cullum (A in Government and Politics and two Bs in History and in Business).
Among those students who took vocational qualifications, there were notable results for Kieran Williams (Distinction*, Distinction in BTEC Sport and Distinction* in Law), Brooke Anderson and Luke Green (both Distinction*, Distinction* in BTEC Sport) and Joe Brown (Distinction* Distinction in BTEC Sport). In BTEC Law, Jaiden Brown, Paige Goodenough and Kara Stockbridge all achieved Distinction*.
Head of School at Neale-Wade, Aynsley Welling, said: "It is clear that Academy staff have given strong and effective guidance to post-16 students and this is reflected in the results. I am particularly pleased with the 75% of students who achieved Distinction* and Distinction that are equivalent to A* and A grades overall."
Assistant Principal and Head of Sixth Form, Carole Spibey said: "We are delighted with this year's post-16 examination results and there have been some exceptional individual performances across both A Level and vocational courses. This is a testament to the hard work of the students and the staff at Neale Wade Academy."
Executive Principal, Jason Wing, said: "I am delighted that the vast majority of students who wish to pursue higher education at university have the results that will allow them to move onto the next stage of their education. They have worked incredibly hard and I wish them every success in the future."
Chief Executive of the Active Learning Trust, Gary Peile, said: "In a time of considerable change in secondary examinations it is a testament to the hard work of students and staff that once again those attending Neale Wade's Sixth form have done so well. It is a source of pride to everyone in the Trust that students from the academy can now go on to the next stage of their education or indeed the world of work with such a strong foundation of learning. I want to wish each and every student every success for the future."