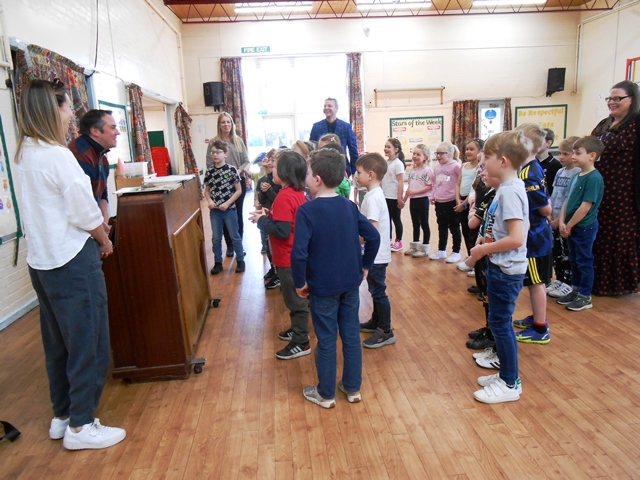 Last week, the West End came to Cambridgeshire when pupils at Earith Primary School were treated to musical theatre workshops by "Wicked's" Assistant Musical Director Peter Woollard and cast member Charli Baptie.
The visit came as part of Peter Wollard's role as The Active Learning Trust's Musician in Residence, which incorporates a wide range of activities across the Trust's schools. Along with Jane Ryder, the Active Learning Trust's Director of Arts and Culture, Peter will be visiting schools to meet with Heads and Subject Leads for Music to determine a programme of support, staff training and events funded centrally by the Trust.
Earith Primary School's Headteacher Tom Abbs said "This is just one example of how being a small school but part of a larger Trust family provides opportunities, raises aspirations and improves outcomes for our young people. Having masters of their craft, like Pete & Charli for the day, was like having our own, interactive teaching musical in school!"
The pupils who took part in the workshops certainly agreed! Year 6 pupil Ella said "Charli and Pete gave me tips on performing and now I feel more confident about my dance show coming up", and Nyah in Year 5 added "Charli taught me that it's okay to be shy and still be on stage. After my time with Pete & Charli I had the courage to audition for a solo singing part in a play. It has made me realise that I have the potential to have a future career on stage".
During the visit, Earith's pupils were also introduced to The Kodaly Method, a way of developing musical skills through singing and incorporates a range of hand signs.
Mr Abbs explained the ongoing impact of this work saying, "we will now work together with Pete on embedding the Kodaly method in our school's music curriculum, in order to raise the potential for many more musicians at our school. Thank you to the Trust for this wonderful opportunity and continued investment in our pupils".