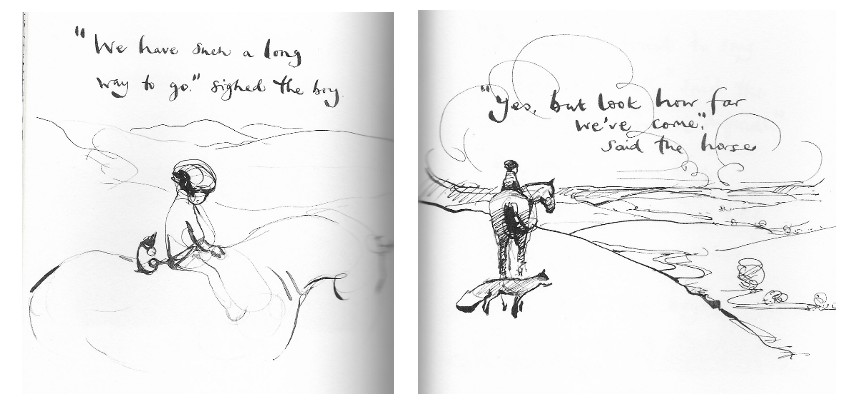 Back in March I shared the wonderful work of Charlie Makesy (1) As we started our period of lockdown I quoted Miranda Hart's notes on the back cover of his book 'The Boy, the mole, the fox and the Horse' when she said "Simply, the world needs Charlie's work right now".
Six months later and, as we start a new school year but without a real end in sight to the Covid-19 crisis, it seems appropriate to reflect further on Charlie's wisdom. 'We have such a long way to go' sighed the boy. 'Yes, but look how far we've come' said the horse. We do, indeed, have a long way to go, but it is quite incredible to reflect on how far we have all come.
Whether or not you ever read the bible I am sure that you will have come across the Psalms; even if this is just through hearing the theme tune of 'the Vicar of Dibley' which is the wonderful Howard Goodall's setting of Psalm 23, 'The Lord is my Shepherd'. As a young chorister I used to sing at evensong every Sunday and, I have to admit, on arrival at church, one of my first actions was to check which psalm was to be sung and how long it was. They weren't the favourite part of the service for me but, as I have grown older, the beauty of these songs (which is the Hebrew meaning of psalm) has grown on me. In one of my recent daily readings I was struck by a mention of David (the writer of Psalm 23) and the traits that he is perhaps most admired and remembered for. These were shaped while he lived like a fugitive in the wilderness. In this time when his tears wouldn't stop and his prayers seemed unanswered, the psalms he wrote showed that 'great character, like massive roots, grows deep when water is sparse and winds are strong'. (2)
I don't know about you but I have been finding the gradual easing of lockdown to be more difficult than the period of time when we knew exactly what we could and could not do. In practical terms also, it was much easier to close down a school or an office than it is to safely plan the return. We are all very aware that Covid-19 has not gone away; indeed, in the past couple of days, we have heard in the news of schools closing again as tests prove positive.
We are, therefore, continuing to face up to this incredibly painful period in our lives; however, I have seen, and continue to see, some remarkable responses to the challenges faced by so many different people. Individuals, groups and whole communities have responded in ways in which, probably, they themselves couldn't have envisaged that they were capable. Some of our best work and our best traits grow out of these trials and tribulations and this will continue to be the case.
In an early 'musing' I gave thanks for the wonderful support I had received from my colleagues across the Trust. Together, as a team we have (to, once again, quote Bishop Nick Baines) been engaged in the 'shaping of now which derives wisdom from the past and aims to fit us, by the reforming of our vision of who we are and what matters, for an uncertain future. We might not be able to control the future, but we can shape ourselves to cope better with whatever comes our way.' That is what we have done thus far and it is what we will continue to do in the future.
Before we venture too far into the new term, I would urge you to reflect again on another of my 'think pieces' entitled 'Working from a place of rest.' In this we heard a story of Jesus' arrival in the Samaritan village of Sychar, 'Jacob's Well was there, and Jesus, tired as he was from the journey, sat down by the well. It was about the sixth hour.' The author, Tony Horsfall (3), explains: 'In a flash I saw the significance of these simple words and realised something quite staggering in its implications. Jesus was doing nothing. He was having a rest, taking a break, giving himself a breather. Sitting there on the edge of the well, he was pausing and giving himself permission to stop and simply to be.'
Remember, it is impossible to continue working without a break. Yes, you can manage for so long, you can 'get by'. But, at some point, your body will scream 'enough'. Can I gently suggest that, whenever possible, you take the opportunity to 'sit by the well' for a while and take some time out?
1 'The Boy, the mole, the fox and the Horse' Charlie Macksey 2019 ISBN: 978-1-52910-510-0
2 'Five Meaningful Minutes a Day' Charles R Swindoll 2003 ISBN: 1-4041-0038
3 'Working from a place of rest' Tony Horsfall 2010 ISBN 978 1 84101 544 6